Lithuanian Cultural and Business Center "Gintaras"
Was founded in June 2002, its Head being Galina Dunai-Khmil and Deputy Head – Ionas Sheikus. Its office is located in Nikopol,  and  about 50 members of  LCBC come here from Dneprodzerzhinsk, Pavlograd and Novomoskovsk. Gintaras unites Ukrainians of Lithuanian origin and other national background, as well as Lithuanian citizens living in Dnepropetrovsk region. In a word, this is a Center for people who have scientific, industrial and personal links with Lithuania or for those who would like to learn more about this European country, about its rich historical and cultural heritage.
The repertoire of choir "Ramunele" , which began its activities in January 2004, comprises a great number of Lithuanian folk songs. Dneprodzerzhinsk hosts another Lithuanian choir "Gesme" and a children's dancing group "Saulegrazha".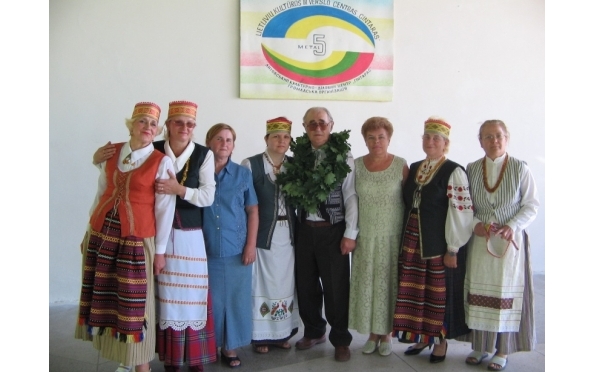 These artistic groups take part in festivals of Lithuanian dance and song organized by Lithuanian communitites in Ukraine and in various cultural events in the city and oblast.
Lithuanian Culture-Business Center (LCBC) "Gintaras" is looking forward to meeting people who feel close to Lithuania or who want to learn more about it and would like to go beyond the boundaries of their cooperation with Lithuanian and Ukrainian businessmen, especially after Lithuania has become a EU member.
Lithuanian Center can render services in translation from Lithuanian language, consultations in education matters, medial treatment, rest opportunities and Lithuanian language classes.